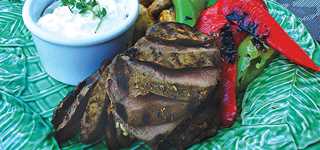 By Scott Leysath
Picture a perfectly roasted, thick, medium-rare slab of well-seasoned prime rib. Now, if you're like me and quite a few others, this picture is not complete without a side of creamy horseradish sauce. It's no surprise that U.S. processors crank out about 6 million gallons of prepared horseradish every year. This white root adds varying degrees of bold, spicy flavor to sauces, which makes it an excellent accompaniment to beef, antlered game, and waterfowl.
The pungent horseradish root, with its sinus-clearing, eye-watering attributes, is a member of the mustard family. Prepared horseradish, the variety most commonly found in markets, is a combination of grated fresh horseradish root and distilled vinegar used to stabilize the heat. For a milder flavor, quickly toss the peeled and freshly grated root with vinegar. The longer the grated root stands without vinegar, the hotter it gets.
Peter Berry's contribution to Ducks Unlimited's recipe files is one he calls "Flying Prime Rib," a suitable pairing of marinated and grilled goose breast fillets with a flavorful horseradish sauce that is simply sour cream, mayonnaise, and freshly grated horseradish folded (blended) together. Assuming that the goose has not been overcooked, it is reminiscent, when dabbed with the horseradish sauce, of prime rib. If fresh horseradish is not readily available, substitute a tbsp. or more of either the prepared or creamed horseradish found in markets.

Peter Berry's Flying Prime Rib with Horseradish Fold
Preparation Time: 10 minutes
Marinating Time: 2 hours
Cooking Time: 10 minutes or less
6–8 appetizer servings
Ingredients
1/2 cup sour cream
1/2 cup mayonnaise
1 tbsp. (or more) grated fresh horseradish
1 cup extra-virgin olive oil
2 tbsp. Worcestershire sauce
2 garlic cloves, crushed
1 tbsp. coarse salt
1 tbsp. coarsely ground pepper
4 small to medium boneless, skinless goose breasts
Directions
1. Fold the sour cream, mayonnaise, and horseradish together in a bowl until blended. Chill, covered, until ready to serve.
2. Whisk the olive oil, Worcestershire sauce, garlic, salt, and pepper in a large bowl. Add the goose and turn to coat. Marinate, covered, for 2 hours, turning occasionally. Drain and discard the marinade.
3. Grill the goose over high heat to medium-rare. Remove the goose to a cutting board and let stand 2 to 4 minutes. Slice the goose across the grain into 1/4- to 1/2-inch slices. Serve with the horseradish sauce on the side.