Canadian boat tariffs removed


 By Staff and News Reports

Last week, the Government of Canada removed all retaliatory tariffs on U.S. recreational boats entering Canada, immediately ending a levy that impacted boat businesses on both sides of the border.
National Marine Manufacturers Association and NMMA Canada heralded the news, calling the action a momentous step in the right direction for the North American marine industry, which has been particularly suppressed by tariffs on multiple fronts over the past year, the NMMA said in a news release.
In response, Thom Dammrich, president of the NMMA, said, "The Canadian government's order to remove its crippling retaliatory tariffs on U.S. boats is undoubtedly the most positive development for our industry since the global trade war began more than a year ago. We are elated by Canada's decision to end this penalty on American boat imports – a market that accounts for the largest share of U.S. boat exports at nearly 35 percent – and we look forward to fully restoring our trade relationship immediately. As such, we call on the Trump administration to resolve its Section 232 tariffs on aluminum and steel and urge Congress to swiftly ratify the United States-Mexico-Canada agreement (USMCA)."
NMMA Canada president, Sara Anghel added, "We are thrilled the Canadian government heard our concerns and addressed them head on. Together, the boating industry worked tirelessly to raise awareness of the unintended consequences that the tariffs and countermeasures were causing Canadian marine businesses. Eliminating retaliatory tariffs on U.S. boats has been the entire industry's top priority for nearly a year, and this action is a monumental win for all of us."
The order to lift the tariffs applies to all boats imported on or after April 30, 2019 and will be officially published on May 15, 2019. Together, NMMA and NMMA Canada – along with the broader recreational boating industry – led the charge in highlight retaliatory tariffs' debilitating effects to small businesses on both sides of the border and advocating for their removal.
— National Marine Manufacturers Association
Venison Steaks with Caramelized Onions and Mushrooms

Author: Hank Shaw

I like to use larger pieces of venison for this recipe; pictured is some backstrap from a red deer. This is ideal for elk, caribou or moose, but it will of course work with regular venison backstrap as well. For non-hunters, use filet mignon or boneless lamb chops. Maitake mushrooms are available in bigger supermarkets; they're being farmed now. But no biggie if you can't get them, as regular button or cremini mushrooms work just fine. The porcini powder I roll the venison in adds a lot of flavor -- you make it by buying some dried porcini and blitzing them in a coffee grinder -- but if you want to skip that, I won't be mad at you. I will be mad at you if you don't caramelize your onions. It's what really makes this dish. Follow my instructions below and you'll be fine. Just take your time. Caramelizing onions takes a while, just go with it. And they keep for days in the fridge.

Ingredients
1/4

 

cup

 

unsalted butter,

 

divided

3

 

onions,

 

peeled and sliced from root to tip

Salt

1

 

teaspoon

 

dried thyme

2

 

teaspoons

 

honey

 

(optional)

1

 

pound

 

venison backstrap

Porcini powder

 

(optional)

1/2

 

pound

 

fresh mushrooms,

 

ideally hen of the woods a/k/a maitake, sliced

3

 

tablespoons

 

fresh chopped parsley

Dandelion leaves

 

(optional, for garnish)
Instructions
Start by caramelizing the onions. Heat 2 tablespoons of the butter in a large saute pan over medium-high heat. When it's hot, add the onions and toss to coat. Cover the onions, turn the heat down and cook slowly, stirring once in a while. You are looking for them to slowly soften and brown, not scorch on the edges. After 10 minutes or so, they'll start to get soft. Sprinkle salt over them and let them cook some more. When they are just starting to brown, add the thyme and honey. Cook until they are a nice brown. Remove and set aside. The onions can be made in advance.

While the onions are cooking, take the venison out of the fridge and salt it well. Let it come to room temperature the whole time you are cooking the onions; this is especially important if you are using elk or moose backstrap, which is thick.

When the onions are done, wipe out the pan and add the remaining butter. Pat the venison dry with a paper towel and sear it over medium-high heat, turning it to make sure all sides are well browned. Use the

 

finger test for doneness

 

to determine when to take it out of the pan. Let the meat rest on a cutting board. If you have some, roll the venison in the porcini powder as it rests.

While the venison is resting, put the mushrooms in the pan and turn the heat to high. Sear the mushrooms until they release their water; this might not happen with hen of the woods. When the water has almost boiled away or when the mushrooms begin to brown, add some more butter and saute hard until the mushrooms are nicely browned. Salt them as they cook.

Once the mushrooms are ready, add back the caramelized onions and the parsley and toss to combine. Heat through and put some on everyone's plate. Add the dandelion leaves if you are using them. Slice the venison into medallions and serve.
I'd serve this with potatoes of some kind, good bread -- black pumpernickel is especially good -- or polenta. You'll want a nice red wine, too, or maybe a pale ale or Scottish ale.
Zebra mussel larvae confirmed in Red Lake

The Minnesota DNR has confirmed the presence of zebra mussel larvae in Red Lake in Beltrami County after studying samples gathered last summer by biologists from the Red Lake Nation.
The DNR has been working in partnership with the Red Lake Nation for over 10 years to monitor zooplankton in Red Lake and will continue to work closely with the tribe to respond to this discovery.
Zebra mussel larvae, called veligers (VELL-uh-jers), typically indicate the presence of a reproducing population of zebra mussels. No adult zebra mussels have been identified. Eight veligers were found in a zooplankton sample taken in the middle of Upper Red Lake.
DNR research scientist Gary Montz said it is highly unlikely that these veligers were introduced to the lake in the larvae life stage.


"Unfortunately, the most reasonable conclusion is that they came from adult reproduction within the lake itself," Montz said. "Red Lake is a unique lake system – very large and shallow – it is not possible to estimate the abundance or distribution of zebra mussels in Upper Red Lake from this sample."


DNR and Red Lake Nation officials are working together to determine next steps. Actions will likely include a combination of continued monitoring, increased watercraft inspections in the area and additional public information efforts.
Additional waters that are connected to Upper and Lower Red lakes may be added to the infested waters list after further review. This decision will be based on the risk of movement of zebra mussels to those specific waters.
People should contact an area DNR aquatic invasive species specialist if they think they have found zebra mussels or any other invasive species. More information is available at mndnr.gov/ais.
DEPARTMENT OF NATURAL RESOURCES

Governor Walz and Lt. Governor Flanagan recommend $131 million for the 2019 Department of Natural Resources (DNR) capital budget. The DNR operates in every single county and serves Minnesotans where they live, work, and play. Camping, snowmobiling, trail riding, hunting, fishing, timber harvest, and minerals development all require the DNR to keep trails and bridges, state parks, water access sites, buildings and other assets maintained, safe, and accessible to all.This capital budget funding will contribute to One Minnesota by targeting investments that maintain strong and safe infrastructure, promote community prosperity by supporting jobs across thestate, connect people from all communities with the outdoors, and protect our natural resources across our various geographical regions.

TAKING CARE OF WHAT WE HAVE

Natural Resources Asset Preservation

The DNR's top priority is taking care of the $3 billion of capital assets we have by preserving and, when needed, replacing existing facilities. The DNR manages over 2,800 buildings, of which nearly 1 in 3 is over 50 years old, 1 in 4 is in unacceptable orpoor condition, and only 1 in 4 meet today's design and building standards. The Natural Resources Asset Preservation (NRAP) (M.S. 84.946) recommendation of $71.5 million includes funding for buildings, water and wastewater systems, energy improvement projects, roads and bridges, trails and trail bridges, water access sites, and water control structures. Our goal is to bring all capital assets up to good or better condition within 10 years. The current annual NRAP need is $168 million, including $44 millionfor deferred maintenance and $111 million for renewal and replacement.

Betterment of Buildings
DNR buildings must be safe, ADA accessible, energy efficient, and strategically located. $14 million for betterment of buildings would enable the DNR to makesignificant improvements and renovations to buildings to meet these goals. Priorities include the Hibbing drill core library, offices, state park shower buildings, fish hatcheries, and storage facilities in order to bring them up to current standards and ensure work places are safe.
Betterment and Acquisition of Public Lands

$20 million in funding for betterment and acquisition of public lands is needed to manage and conserve the natural resources and recreational opportunities of the state. These fundswould provide for reforestation of state lands, groundwater monitoring wells, state trail connections, prairie restoration in parks and along trails, stream restoration, water access improvements, and shade tree program grants. Additionally, the funds would be used to acquire strategic in-holdings and critical needs.
PROTECTING PUBLIC SAFETY

Fire Operation Airport Infrastructure

Airport infrastructure that can accommodate specialty firefighting aircraft is crucial to DNR's ability to prevent and suppress wildland fire. $2 million is needed to replace aircraft staging and access areas (ramps) at air tanker bases. The top priority is the Range Regional Airport in Hibbing, which is decaying and almost inoperable, threatening both aircraft and pilot safety.

Dam Safety Repair, Reconstruction and Removal

Minnesota's aging dams require ongoing repairs to protect public safety and maintain water levels on recreational lakes. $2 million supports the design, engineering, reconstruction, or modification of publicly owned dams.

CONNECTING PEOPLE WITH THE OUTDOORS

Improving Accessibility to State Parks and Rec Areas

Many buildings at state parks are over 50 years old and are not compliant with current ADA standards. $19.5 million will improve accessibility at strategic facilities. This work will include renovations of existing park facilities and trails as well as developing new accessible amenities to meet the growing demand of a diverse user base and people of all abilities.

Parks and Trails Local and Regional Grant Program

The Parks and Trails Local and Regional Grant Program delivers outdoor recreation opportunities to the public and maintains the health and economic vitality of Minnesota's communities by ensuring public access to a high-quality system of local and regional parks and trails. $2 million would provide competitive grants to local governments for acquisition and development of local and regional parks and trails across the state.

5 Things to Consider When Deciding How to Hunt Spring Snows
Two experts weigh in on how to decide between freelancing or hiring a guide for spring snows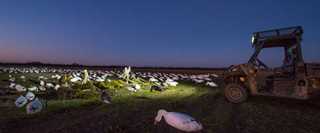 By John Pollmann
The spring Light Goose Conservation Order (LGCO) provides hunters with a great way to extend their season and witness the miracle of the spring migration, but the gear-intensive nature of the hunt coupled with wary birds can provide many challenges. Among the difficulties to hunting light geese is deciding whether to tackle the experience on your own or hire a guide. In the following, a pair of snow goose gurus who have been on both sides of that coin share their thoughts to help you decide how to hunt spring snows.

Team Effort
Before Mike Bard began guiding snow goose hunters in New York, he partnered with several friends to freelance hunt during the LGCO – a decision he says was made out of necessity due to the massive costs associated with hunting these difficult birds.
"If you're looking to do this on your own, it is really helpful to have a group of friends to pool resources, and there are a few ways you can save some money," Bard says. "Sock-type decoys are a much more affordable way to start off and you can make an e-caller relatively inexpensively by using your phone or an old MP3 player to play snow goose tracks that you can buy online for less than $20. You can also use $25 snow goose flags rather than buying the more expensive wind- or battery-powered motion decoys."
Most hunters have layout blinds, but Bard says if someone in the group doesn't, a white Tyveck suit is a cheap alternative. The one piece of equipment every do-it-yourself group of snow goose hunters should have, though, is a four-wheeler to get the gear in and out fields where access by truck and trailer simply isn't possible, which happens more often than not.
"Before you buy your own snow goose gear, I still recommend trying a guide at least once to see if it's really something you're up for and maybe pick his or her brain a bit on why things are done a certain way," Bard says.

Timing Constraints
Veteran snow goose hunter Tony Vandemore is a big fan of DIY hunts and the rewards that come from putting together a successful experience with a group of good friends. The key ingredient to this approach is time.
"A do-it-yourself trip is probably going to take a week. You are likely going to drive at least a day to an area pulling a trailer before having to scout for a day or two, get permission, set the rig up, hunt for three or four days, pick the rig up and drive another day back home," Vandemore says. "If you only have three or four days to work with, you're probably better off hiring an outfitter to maximize your time in the field."
Bard adds that for both DIY and guided hunters, when you go can have an impact on your success.
"There are certainly historical times of the season that are best, but no one can control the weather and the migration," Bard says. "It pays to talk to other hunters who have spent time in a certain area or talk to the outfitter and try to make the trip during what they consider is the 'prime time'. I always try to avoid scheduling a hunt during a full moon, as if it's clear the birds may move and night and rest during the day. And for snow geese, it can be a lot of fun to hunt after the main migration has passed through, when the non-breeding birds typically move north. You will likely see fewer geese, but you will likely decoy more of what you see."


Do Your Research
One area that Bard and Vandemore both emphasize is the need to ask questions of an outfitter if you plan to take that approach.
"Before you book a hunt, go over all of the details," Vandemore says. "What kind of set up will you be using? Will you be in layout blinds, in Tyvek suits in the decoys or in a heated pit? What things are provided and what things do you need to bring yourself and so on. A good outfitter is going to go through this with you and answer all questions so there aren't any miscommunications."
Bard adds that he likes to talk with hunters who have used a particular outfitter before booking a hunt.
"In this day of social media, it's pretty easy to do your homework and connect with others," he says. "I like to cover a lot of topics and leave nothing to question. There are a lot of great guides out there who will do their best for you, but there are some who are not properly equipped and are in it to try and make a quick buck."

Preset Expectations
Regardless of whether you hunt on your own or with a guide, Bard says that having clear expectations is a must.
"I think improper or uninformed expectations cause more issues than poor hunting," Bard says. "As a guide myself, I like to have a good conversation with hunters so the expectations are set and there are no surprises."
And as a hunter, Bard says he has to remind himself to keep things fun, avoid comparing himself to other groups and celebrate the little successes.
Vandemore agrees, adding that for those who choose to hire a guide, it's important to remember that there are no guarantees when it comes to spring snows.
"I typically tell my guys when they book that we're looking to have one good day out of three. We might hit three days of sunshine or we might hit three days of clouds and no wind," Vandemore says. "My job is to put them in the best possible area, with the best possible equipment, so we have the best chance of having a good hunt. So much of the rest is up to the weather."

Broaden Your Horizons
In the end, the LGCO often provides hunters the opportunity to experience and learn something new about one of the toughest targets in the waterfowl world.
"There is a learning curve in any kind of waterfowl hunting – you don't just buy decoys and go out and have the hunt of a lifetime – and with snow geese, I think the learning curve is longer and more extensive," says Vandemore. "They are like tarpon of the waterfowl world and the hardest to consistently find success. Doing this on your own will absolutely make you a better hunter. That said, if you're just starting out, hunting with others that have more experience – whether it is an outfitter or a friend – is going to speed up the learning curve for you."
Bard agrees, noting that he often chooses to hire a guide when he is traveling to a new area or hunting a new species of waterfowl.
"I really enjoy seeing how other hunters or guides find success. I will often learn something new, which provides me value for years down the road," Bard says. "But there is a different satisfaction you get when you did it yourself and with friends – it's your gear, you set it, and you fooled them. When you decide to go without a guide, it can be easy to get knocked down by all the punches that spring snow geese can throw your way. Those days you get to punch back are what keep you going."