Antler restrictions appear to result in


bigger

bucks, decreased harvest counts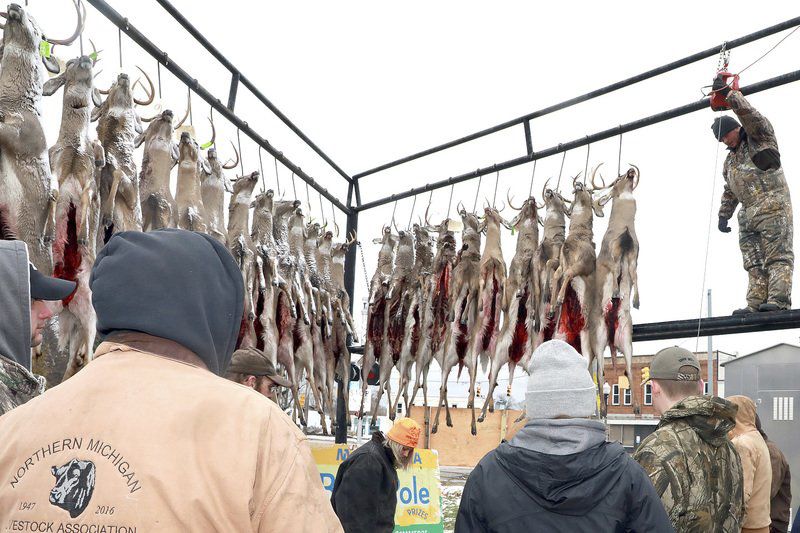 TRAVERSE CITY — Waiting through a long, wet morning paid off for Richard VanBlooys when a trophy buck stepped into his sights.
He left for his blind about 10:30 a.m. Wednesday and sat for several hours waiting for a deer. An 8-point buck finally — later in the afternoon — entered VanBlooys' line of sight about 100 yards away. He quickly shouldered his .30-06 rifle, aimed and fired.
"This is the biggest one I've ever shot," said VanBlooys, 66, of Mancelona. "I'm really happy."
VanBlooys brought the buck — with a roughly 151/2 inch spread — to the Mancelona Buck Pole on Thursday and credited antler point restrictions for the large size of his kill. He believes the restrictions allow young bucks to grow, like his and others that hung next to it.
Department of Natural Resources officials introduced in 2013 rules that prohibit hunters from harvesting bucks with less than three points on one side in the region. The mandate was proposed by Northwest Michigan Chapter of the Quality Deer Management Association officials. A majority of hunters supported the changes in regional surveying efforts completed prior to the changes and again at the beginning of 2017, said DNR Wildlife Communications Coordinator Katie Keen.
The rules typically protect 11/2-year-old bucks or younger, she said.
"Because the younger bucks are no longer legal, they can't be harvested, so they're allowed to continue to live, go into the winter and potentially live another season," she said. "So what we're seeing come in are older, and/or bigger bucks."
The response from most hunters has been positive, Keen said, acknowledging her lack of surprise, since most hunters she spoke to bagged a large buck. She expects there are still hunters and others who oppose the new rules.
Not all hunters have followed the new rules. About 20 prosecutions occur each year involving hunters who violate the antler point restrictions, according to DNR Lt. John Jurcich.
Andrew Milliron, president for the Northwest Michigan Chapter of the Quality Deer Management Association, said talking to hunters and looking at deer on trail camera footage shows the restrictions continue to improve deer herds.
"Overall, whether you would like to shoot an older age class of buck or if you're out for meat, there's ample opportunity for either or," he said. "I feel the program allows hunters to do both."
Milliron said some hunters fear the restrictions could lead to large increases in the deer population. But DNR officials upped the number of available doe tags in those counties with the restrictions, which could help contain the population, he said.
Mancelona Buck Pole volunteers noticed that while the sizes of the deer have increased since the rules were implemented, the number of deer being hung mostly fell.
"It's definitely quality over quantity at this point," said Kayla Moore, 21, a nearly lifelong volunteer at the buck pole.
But she's seen a slight increase in deer harvests since the rule change.
Deer counts were low at the buck pole in the first season after the changes, but those numbers slowly climbed, Moore said. This year's 35-buck count surpassed last year's count of 29, according to statistics on the buck pole's web page.
The size of the deer being brought to the pole this year have certainly increased, she said.
"It definitely makes hunters happier to see such huge bucks being harvested," Moore said.
VanBlooys celebrates firearm deer season's opening day every year, a tradition observed since he was 18. He hopes the antler restrictions will mean more opening days ending with trophy bucks in seasons to come.
"It's done wonders for our deer herd," VanBlooys said. "We have an awesome herd of deer now."